Presentation
Awards
Session Abstract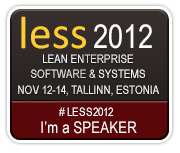 I'll be presenting "Lean Startup isn't Just for Startups" at LESS 2012 in Tallin, Estonia. Join myself,keynote speakers Jurgen Appelo and Christopher Avery and other global Lean-ists for topics ranging from management practices to Lean Startup.
The Lean Startup wave is rising everyday but you don't need to be a startup to benefit from it. I've used the Lean Startup method in non-software environments, for education in universities and in non-startup companies as well as for managing change in an organization.
In this talk I'll explain what Lean Startup is and how I used it in these environments, including actual business model canvases used, metrics collected that show validated learning, failures and successes. You'll learn about creative approaches to creating your MVP (minimum viable product) and what pitfalls to avoid when jumping into using the Lean Startup method.